Check out this blog post from Drs. Les and Leslie Parrott

"We all face uncertain seasons from time to time. If you're married, you have the added bonus of having a partner you can weather these storms with. Unfortunately, sometimes uncertainty and stress can divide us rather than bringing us together.
If you're facing a difficult time right now, it's important to find ways to come together rather than being torn apart. You can do this by exercising a combination of vulnerability, selflessness, patience, and empathy...."
---
Help and Hope @ Home
The FamilyLife Canada Mini-Conference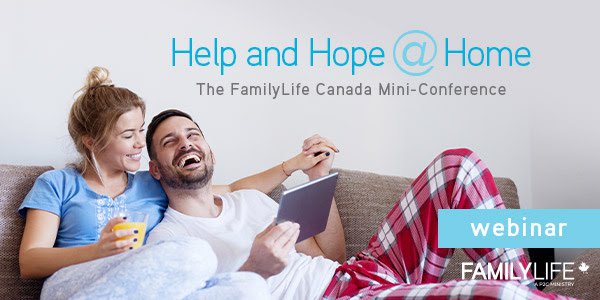 FamilyLife Canada is hosting a webinar Saturday, May 2 from 8-10 am (Canmore time).
Click the image above or the button below for more information or to register. Can't make it at that time? You can still register and they'll send you a link to watch it later!
From FamilyLife:
"For this webinar, Neil and Sharol Josephson will be joined by co-hosts, Brent and Celeste Trickett, to bring you engaging teaching, humour, and stories from the ups and downs of their own journeys. You'll learn plenty of tools to grow in oneness as a couple so you can face this season of physical distancing more deeply in love, full of joy and united as a team."
---
We were really excited to be hosting a Marriage Tune-up Weekend May 1-2, 2020.
Unfortunately due to the COVID-19 outbreak we are going to postpone the event until the fall.
But we don't want to leave you without resources to work on your marriage now!
Here are a couple of links (click the image) to books that we will be basing the tune-up weekend on for you to do a little pre-reading:
A couple of other book recommendations on marriage:
---
You can also head over to Right Now Media and there are some great multi-session marriage studies, including some from the authors above. I've curated a couple of them for you, click here for that list.
If you're not on Right Now Media yet, click here to request access and get started!
Right Now Media is an online video library of Bible Studies, Documentaries, Kids shows and more. We're excited to give you free access to RightNow Media, a wonderful library of video resources for all ages from churches and pastors all across the country, to help you develop and grow as both a disciple of Jesus and disciple-maker.